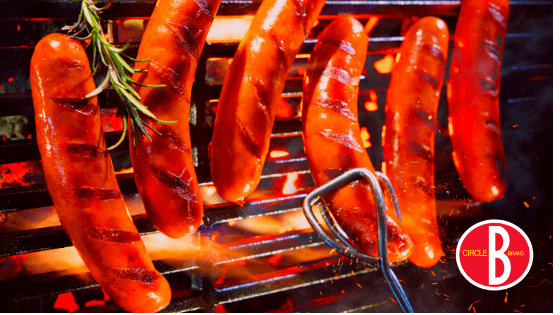 Grill Master's Guide to Circle B Smoked Sausage
Everyone's favorite season is finally here! For the next few months, it's nothing but beautiful blue skies, longer days, and sunshine – and nothing says summer like firing up the grill! Grills across the South will be loaded up with hickory chips ready to slow smoke your favorite foods. Whether you're having a few neighbors over for a 6 feet-a-party or a night with the family, grill masters everywhere are showing off their favorite recipes.
Should grill masters be looking for anything in particular this year? The answer is the famous and well-known Memphis favorite: Circle B smoked sausage. With its smokey, multi-layered flavor, Circle B smoked sausage is the perfect item to throw on your grill. The signature red casing and snap will be the hit of all your friends and family.
One of the best things about Circle B smoked sausage is its versatility! You can serve it either as a main dish or use it in a southern classic like jambalaya or etouffee! Man, talk about mouth-watering!
Here are some of the many ways to enjoy Circle B on the grill!
Grilled fruits and veggies for a healthy side
Grilling Circle B Smoked Sausage with vegetables rounds out a grilled meal. Onions, mushrooms, and peppers are standards on Southern grills, but let us suggest a few new options.
Not everyone thinks about fruit when firing up the grill, but we think it's a real game-changer! We love grilling some chunks of pineapple- they are loaded with natural sugars that caramelize when met with heat. It's sweet meets savory Circle B!
And don't forget about zucchini! Zucchini slices really take on the flavor of nearby grill buddies, especially when you wrap your Circle B links and veggies in foil!
Grilled vegetables add a little char and a ton of flavor to your meal. Simply drizzle the veggies of your choice with a little olive oil, rosemary, and garlic for a fresh burst of flavor. It'll take you to flavor city!
Grilled on an open flame and served in a separate dish
There's no beating Circle B right off the grill! Circle B is an awesome treat, whether it's in the center of your plate or on a bun with your favorite toppings! We love sauerkraut, caramelized onions, and spicy mustard!
Or if you want to take a big pot of gumbo or red beans & rice to the next level, add some sliced Circle B! We give the slices a little char on the grill before adding them to the pot. Grilling your Circle B Smoked Sausage brings out the smoky notes in each link, exposing yet another layer of flavor to this Memphis hometown favorite. SMOKE ON SMOKE ON SMOKE!
Grilled sausage and peppers
Peppers and sausages make a fantastic team. You can use bell peppers or spice it up with some jalapenos. Throw your peppers on the grill next to your Circle B sausage and let them get a nice, black char on their skins. This blisters the skin and makes the peppers sweet and savory!
Whole or split down the middle
If you're from Memphis, this conversation has probably come up more than once at the dinner table: What is the proper way to cook Circle B? Do you eat the whole link, slice it up, or split down the middle?
Well, the truth is there is no wrong answer. Circle B smoked sausage is terrific no matter how you serve it. Many like grilled whole so that the casing gets a good char and snaps open ever so slightly. Grilling Circle B whole also makes it extra juicy.
Slicing a Circle B down the middle (but not all the way) allows the inside to gather its own caramelization and char. There's something special about how the inside of a sausage cooks on an open grill. It seems like every part of the sausage is enhanced by the grill fire.
No matter how you enjoy a Circle B smoked sausage, just know you're taking part in something that makes Memphis special. Circle B is the most popular sausage in the southeast, and it's because we have provided the same quality of flavor and product to the good people of Memphis for decades. We promise always to provide you the best of the best and keep your hearts and tummies full!