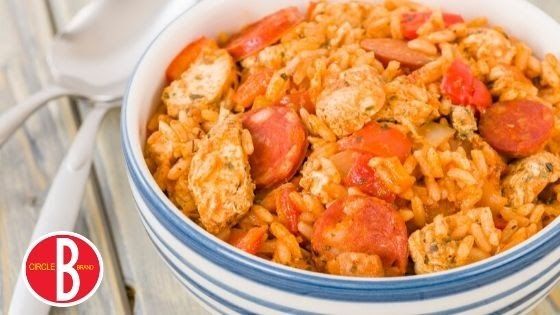 The Perfect Southern Jambalaya with Circle B Smoked Sausage
Jambalaya is a staple in southern cooking, just like Circle B smoked sausages. The dish originated in New Orleans, Louisiana, when Spanish settlers substituted tomatoes instead of saffron in their attempt at paella. It's the ultimate dish combining cajun spices, proteins like chicken or sausage, seafood, and rice. Over the years, it has become the epitome of true homemade soul food and is a favorite amongst restaurants and home-cooking pot lucks.
The key to a show-stopping jambalaya is to use the best ingredients, including the best sausage. With jambalaya, it's best to use smoked sausage since it adds more depth to your dish. Circle B smoked sausage will add that delicious smoke and spice that will have your friends and family raving about your jambalaya for months to come. Here's an excellent jambalaya recipe that will give you a leg up on the potluck competition!
Jambalaya with Circle B Smoked Sausage
For this recipe, you will need: 
1 tablespoon Vegetable oil
4 cloves garlic, minced
1 green bell pepper, chopped
2 stalks of celery, chopped
1 onion, chopped
½ pound Circle B smoked sausage, 1-inch thick slices
1 can of diced tomatoes (14 oz)
1 ½ cups Chicken broth 
1 teaspoon Cayenne pepper
2 Bay leaves
1 cup White rice
STEP 1:
Heat vegetable oil in a large skillet over medium heat. Add fresh garlic, green bell pepper, celery, and onion. Cook the vegetables until tender, stirring occasionally.
STEP 2:
Add your sliced Circle B smoked sausage. Cook the sausage until slightly browned (about 3 minutes), stirring often. Stir in a can of diced tomatoes (juice and all), chicken broth, cayenne pepper, and bay leaves and heat to a boil. Once you get everything to a boil, reduce the heat to low, and continue cooking for approximately ten minutes, stirring often. 
STEP 3:
Remove the bay leaves, and increase the heat to medium-high. Add rice to the skillet, and bring to a boil. Once everything comes to a boil, turn the heat down to low and cook until all of the liquid is absorbed or rice is cooked through.
Circle B smoked sausage is the perfect sausage for this recipe because it's signature smoky flavor adds dimension to the dish. That signature snap of that famous red casing gives a pleasant addition of texture and gives you the satisfaction of knowing you're eating the best of the best. For the full recipe click here.
Learn more about Circle B signature smoked sausage
Circle B smoked sausage is the #1 smoked sausage across the Mid-South. Just like the Memphis Blues, Circle B's got soul – a down-home smokey flavor that comes from a secret blend of select pork, chicken and beef. With its signature red casing, a tasty bite and snap, Circle B smoked sausages have been crowd pleasers for generations. Check out our website for more recipes!