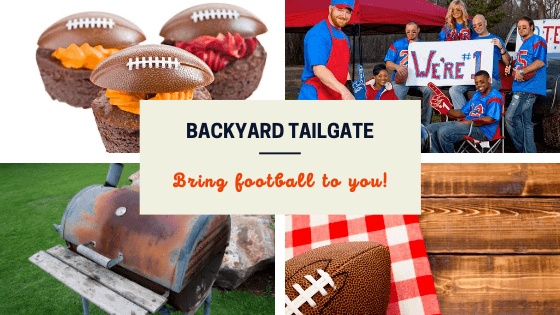 No football? No problem! Your own backyard tailgating adventure awaits
So college football is looking a little different this year. Many of the NCAA conferences have canceled their seasons. Other conferences have elected to play limited games to very small audiences and have eliminated any tailgating at the stadiums.
That stinks, don't it?
If your team has a reduced stadium attendee capacity and you can't tailgate onsite, there's no reason you can't tailgate from the privacy of your own backyard the day of the game. In fact, you've got even more resources available to you at home than you would while tailgating out at the stadium.
So let's get creative, cheer on our favorite teams, and eat some Circle B Smoked Sausages along the way! (You know we had to work that in.)
Ideas for tailgating at home
Bring the football-watching outside under the blue fall sky
If you're going to tailgate outdoors (which is really good for social distancing), then you've got to get the "boob tube" out there with ya. However, instead of lugging out the TV, consider getting one of those outdoor projection screens that will be wildly popular this fall. Make sure you get one with an HDMI input so you can stream the game from your laptop. Hook up some inexpensive speakers, and you've got a cozy camp where you can all gather around and cheer on your team.
Choose a bevy of decorating delights and entertaining events
Since you don't have to lug a bunch of stuff into the car and then trot it out to a game-day tailgating site, you can pretty much go nuts on decorating your background for your tailgating bonanza. Involve your kids to make poster board signs jeering your opponents, and hang them around the tailgating area. String up inexpensive but festive lighting for when the game runs into the evening. Walmart has some really creative string lights, from beer bottles and footballs to fall leaves.
Another idea would be to put out plenty of games for people to play before the game and during halftime. Of course, cornhole is always a crowd-pleaser (although cornhole boards can be expensive, you can look around and find an affordable set). You could also consider badminton, flag football, or even Kan Jam, which involves a garbage can and a frisbee. You don't have to be a college athlete or even remotely coordinated to play these fun, "pass the time" games.
Also, don't forget about seating. It makes sense to have a BYOC (Bring Your Own Chair) policy or swing by a dollar store to pick up inexpensive seat cushions for your own outdoor chairs. After all, you're going to be out there for a while!     
Make party presents for your gathering
Make your tailgating party extra special by putting together party favors for your guests and children. Anything from football keychains to team face tattoos to football jersey koozies you and the kids make yourself would be fun little remembrances to make the day exciting and fun. Another idea would be to take a page from wedding planners and put disposable cameras around for your friends and family to catch all the festivities in action. 
Plan the perfect menu for tasty tailgating 
Ahh – the food. The main event. The most important thing of all to make a good tailgating party a success. There are so many options, it's hard to know where to start. But you will certainly want to start by reading through all of the different Circle B Sausage snacks that are super easy to make and real crowd-pleasers. After all, Circle B Smoked Sausages, which are #1 in the mid-South! Circle B's got soul – a down-home smoky flavor that comes from a secret blend of select pork, chicken, and beef. With its signature red casing, tasty bite, and snap, Circle B smoked sausages have been crowd pleasers for generations.
Circle B Smoked Sausages are great grilled by themselves on a bun loaded with condiments. But there are also ways to make them into delectable delights for all of your football fanatics to enjoy. Here are a few ideas:
This article

showcases some handy finger foods that are delicious and quick to put together. Examples include charcuterie trays (sooo popular right now), and tortilla roll-ups made with Circle B's Hot Links.

For something different, weird, and totally delicious, try making a

Swineapple

on your grill. Trust us – it'll be the hit of the party!

For those evening games, you should consider serving a big ole' pot of Southern Jambalaya with rice and hot sauce on the side. 
The possibilities are endless for a memorable backyard tailgating soiree
Make your tailgating party something special that everyone will remember all season. Take the time to prepare some decorations ahead, have everyone bring their favorite drink and dish, and delight the kids with finger foods and a "play station" with games, crayons, and stuff to decorate rocks. The adults can cheer on their team or play games, and you'll be forever known as the hostess with the mostest!